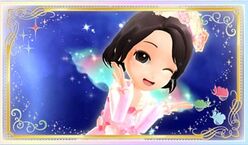 Wings are special add-ons to their Character starting with Wave 4 from the coords found in the Shiny Star Story. They can be used during performances to achieve special Appeals.
Obtaining
Edit
They are unlocked by gaining points during performances from a variety of bonuses. Each wing has three-levels of style the player can obtain. At 5 points the player can obtain the small wings, 20 points for normal wings, and 100 points grants them access to the special and highest grade of wings.
List of Wings
Edit
| Name | Image | Appearance |
| --- | --- | --- |
| Aurora (Small) | | Glittering, small blue wavy glowing lines with a thin streak of pink. |
| Aurora | | The wings grow in size with a thicker section of pink. Two smaller layers are gained with pink tips. |
| Aurora (Special) | | More glitter is added as the wings grow in size and become very pale pink and blue. Pale yellow is visible in the center of each wing. |
| Ariel (small) | | Glowing cyan wings shaped to resemble a clam on each side. Tiny dots adorn the middle. |
| Ariel | | The wings glow slightly brighter and the shape spreads out and gain swirling lines and several more dots. A few bubbles adorn each wing. |
| Ariel (Special) | | The wings change to pure gold and gain golden glitter and further detailing. |
| Jasmine (Small) | | A small pale blue peacock feather attached to four curling lines. |
| Jasmine | | The wing is slightly brighter and gains matching glitter, growing in length with a curling shape at the back to match the stem. Several small curls surround the stem and the feather shape on top, which has accents of white and teal and is lined with hot pink dots. |
| Jasmine (Special) | | The wings turn pure gold with a gradient and matching gold glitter. The wings grow in thickness and gain several more swirls and dot accents. |
Name
Image
Appearance

Belle

(Small)

Small golden wings in the shape of three feathers on each side. Glitter surrounds them.
Belle
The feathers form into several more and gain a bronze gradient. They resemble one giant feather and point downward.

Belle

(Special)

The feathers brighten in color and gain more detail, along with glitter.

Alice

(Small)

Wings in the shape of a dull blue bow. Each side depicts a design, one being the mad hatters hat, while the other is a teapot with pink glowing details. Both wings have glitter on them.
Alice
In this form the wings gain another section, turning the bow-shape into a ribbon. More glitter is on the wings and their design details are lighter. On the tails are various pink and purple blowing details.

Alice

(Special)

The wings turn brilliant gold with sparkles coating them and floating off of them. Everything is pure gold, with the details on the tails being lighter than the top and accent with white.
The wings based on Sleeping beauty are most-likely based on her name Aurora, as they resemble the Aurora Borealous, beautiful blue and pink lights that rarely appear in the evening sky from most cold regions.
Official Art
Edit
Ad blocker interference detected!
Wikia is a free-to-use site that makes money from advertising. We have a modified experience for viewers using ad blockers

Wikia is not accessible if you've made further modifications. Remove the custom ad blocker rule(s) and the page will load as expected.